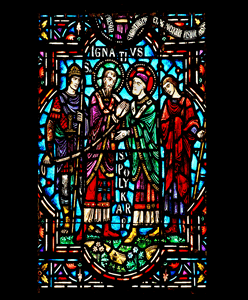 St. Ignatius of Antioch Church
10205 Lorain Avenue
Cleveland, Ohio 44111
www.sioa.weconnect.com
stignatiusparish@aol.com


Phone Numbers:
Parish House: 216-251-0300
After Hours Emergency: 216-765-2349

St. Ignatius of Antioch parish has celebrated over 100 years of service to the people of God in western Cleveland. The church has been a beacon of light, figuratively and literally, to the surrounding community, supporting parishioners and residents alike through all events of celebration and heartache. The church building, constructed of Bedford limestone in the Romanesque tradition, has survived physically because of the diligent care of its pastors and the faithful who have supported the spiritual, educational and communal activities that are the hallmarks of this thriving community of believers.

Named for the early Christian bishop and martyr, St. Ignatius of Antioch was one of the first parishes founded to serve all nationalities and heritages, not just one ethnic group.

We look forward…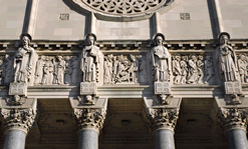 Mass Schedule:
Saturday Evening Vigil: 5 p.m.
Sunday: 9 a.m. and 11a.m.
Holy Day: As announced in bulletin
Weekday: 8 a.m.
Rite of Penance:
Saturdays: 3:30 p.m.
Marriage:
Couples need to make arrangements at least six months prior to wedding date.
Rite of Infant Baptism:
Parents are required to attend a Pre-Baptismal Instruction. Sessions are offered the first Tuesday of January, March, May, July, September, November, 7 p.m. in Parish House.
Catechumenate/RCIA:
Adults and children of Catechetical Age seeking baptism and membership in the Church are invited to join, Monday evenings, 7 p.m.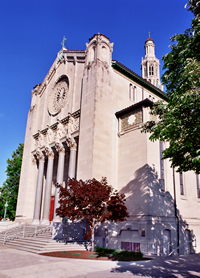 Saint Ignatius of Antioch is a Catholic Parish in the Diocese of Cleveland, dedicated to worship, educational excellence and social justice. We promote ecumenism and embrace cultural diversity. We strive for family growth, neighborhood involvement, and community development. We uphold the dignity of the human person and are determined to meet the demands of the new millennium with hope for the future.
Rev. Michael Troha
Pastor
Sr. Dianne Piunno, MA, S.N.D.,
Pastoral Associate
DPiunno@hotmail.com
Margaret Ricksecker, M.Ed.,
School Principal
sch_stignatiuses@dioceseofcleveland.org
Mr. David L. Dettloff,
Director of Music